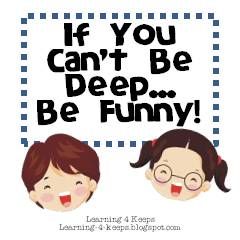 So, today I decided to link up with Leah at Learning 4 Keeps to make an attempt at being funny. I surely must say that I am not deep. Ummmmmm, Ok, I'll try a little harder.................
I found some of the funniest pictures on pinterest that I wanted to share with you. Please see below and then link up to add your own "G" rated funny pix.....
Thanks Leah, I needed that. Laughter works good like a medicine.
Have a Terrific Tuesday everyone!